RETURN
AREQUIPA COLCA CANYON PUNO TOUR - 2D/1N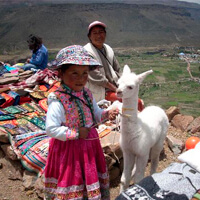 AREQUIPA COLCA CANYON PUNO TOUR - 2D/1N
SERVICE :
Compartido
DEPARTURE TIME :
7:30 a.m.
ARRIVE TIME :
7:30 p.m.
CATEGORY :
AREQUIPA
RATING :

1000

reviews)
(
Update page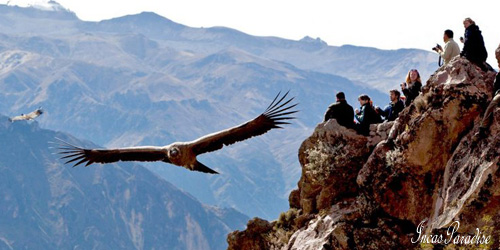 OVERVIEW
This tour is one of your best options that will allow you to save time and economy, between AREQUIPA and PUNO, starting from the Arequipa city, Chivay, Colca Canyon until reaching to Puno city.Colca Valley is one of the famous tourist destinations of Peru; located at the northeast end of Arequipa in the Province of Caylloma. Puno is a city that is located on the shores of Lake Titicaca.
AREQUIPA COLCA CANYON PUNO TOUR - 2D/1N
1ST. DAY: AREQUIPA – CHIVAY + VISIT TO HOT SPRING LA CALERA.
On this tour, our local guide will pick you up from your hotel in Arequipa between 7:30am and 8:15am, and depart by bus towards the Colca Canyon. We'll have stops in Pampa Cañahuas, Aguada Blanca National Reserve which is home to herds of vicuñas, llamas and alpacas, and migratory birds (flamingoes, seagulls Andean, wild ducks, etc.) So, you can stop to get that all-important selfie with an Alpaca! We also stop on The Viewpoint of the Andes, which is the highest part of the road, from where we appreciate much of the Western Cordillera. We will arrive to Chivay at 1:30 p.m. and after lunch, we will settle in our lodging in Chivay. 
In the afternoon, we'll visit to Hot Spring La Calera of Colca Canyon to relax at the nice pool outdoors surrounded of the huge mountains. Then, back to Chivay for diner in some restaurant of the town. Overnight at the hostel.
2ND DAY: CHIVAY – COLCA CANYON – CRUZ DEL CONDOR – CHIVAY – PUNO.
At around 06:00 a.m. after breakfast, we'll depart to the "Condor's Cross", or Natural Viewpoint: Cruz del Condor, where we'll hopefully see the world famous Andean condor birds soar majestically above us as they rise up from the canyon. We will take you to different viewpoints of the canyon, to allow you to explore it and appreciate its sheer size: This incredible canyon is the second deepest in the world! and to make small walks in the surroundings.
Then we will return to Chivay, making stops in some typical villages such as: Pinchollo, Maca and Yanque that houses beautiful colonial churches. In Chivay we will make a last stop for the buffet lunch.
 At 1pm, departing to Puno, Along the way stop Patapampa, and Lagunillas viewpoint Situated on the half way between Puno and Arequipa, there several of beautiful small lagoons called Lagunillas, where is possible to see Andean Flamingos, others Andean birds and trout farms fishing on their artisan boats. Here stop to enjoy our delicious snack include the spectacular views and peaceful atmosphere. Arrival to Puno about at 7pm, and the drop off point in your hotel.
It is advisable to bring :
Camera, Toilet paper and extra batteries.
A bottle of water (2 liter).
Glasses, hat and sunscreen.
Bath linen and towels.
WHICH IS INCLUDED IN THIS TOUR?:
FOOD: 2nd day 1 Breakfast and Buffet Lunch in Chivay.
Professional English/Spanish speaking guide.
Basic accommodation with shared bathroom.
Pick up from your hotel in Arequipa.
Tourist transport Arequipa - Chivay - Colca canyon - Arequipa.
Tourist transport Chivay - Hot springs.
Guided visit: "National reserve of Salinas an Aguada Blanca" and Colca Canyon.
WHICH IS NOT INCLUDED IN THIS TOUR?:
Others not mentioned in the program.
Buffet Lunch in Chivay (30.00 PEN)
BTC (Colca Ticket Tourist).
Entrances fee to hot springs in Chivay (S/. 15.00 Nuevo Soles).
BTC (Colca tourist ticket,
permite ingresar al cañón del colca) :
NATIONAL: S/. 20.00 PEN
FOREIGN: S/. 70.00 PEN
PRICES TABLE
Prices in ($ USD) DOLLARS
amount of people
$ 85.00 USD
per 1 person
BENEFITS WITH INCA'S PARADISE - COMFORT
Alive culture and nature
Unique experiences
Qualified staff
Responsible tourism
Your satisfaction is our happiness
Excursion in private:
Price: consult based on number of people.
write us: reservas@titicacatravel-ip.com
Do you need more details with our help?
INCA'S PARADISE | TRIP | ADVISOR