RETURN
TOUR TO THE CANYON DEL COLCA 2D / 1N FROM AREQUIPA
TOUR TO THE CANYON DEL COLCA 2D / 1N FROM AREQUIPA
SERVICE :
Compartido
DEPARTURE TIME :
7:30 am.
ARRIVE TIME :
5:00 pm.
CATEGORY :
AREQUIPA
RATING :

1000

reviews)
(
Update page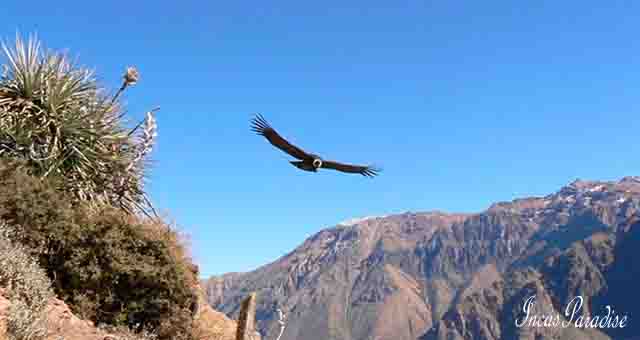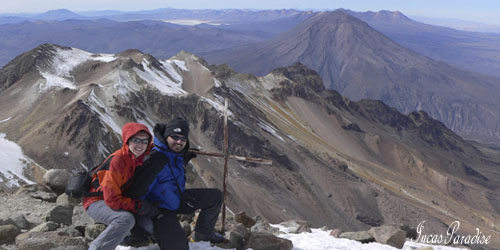 OVERVIEW
The Colca Canyon is one of the biggest tourist destinations of Peru; located at the extreme northeast of Arequipa in the province of Caylloma. Colca comes from the words Collaguas and Cabanas, two ethnic groups that lived along the Colca River. This canyon has a depth of 4160 meters and has a great cultural value.
TOUR TO THE CANYON DEL COLCA 2D / 1N FROM AREQUIPA
DAY 1: At 07:30 a.m. Our local guide picks you up from hotels (surrounded Arequipa) to start the journey to Pampa Cañahuas (National Reserve of Aguada Blanca and Salinas) habitat of beautiful South American camelids (vicuñas and guanacos) and migratory birds (flamingoes, seagulls Andean, wild ducks, etc.). Then we come to the The Viewpoint of the Andes, which is the highest part of the road, from where we appreciate much of the Western Cordillera. We will arrive to Chivay at 12:30 p.m. and after lunch, we will settle in our lodging in Chivay.
In the afternoon, we'll visit to Hot Spring La Calera of Colca Canyon to relax at the nice pool outdoors surrounded of the huge mountains. Then, back to Chivay for diner in some restaurant of the town. Overnight at the hostel.
| TIMETABLE | ACTIVITIES OF DAY 1 |
| --- | --- |
| 07:30 A.M. | Pick Up From Your Downtown Hotel In Arequipa. |
| 08:00 A.M. | Bus Depart To Chivay With Stop On The Way. |
| 12:30 P.M. | Arrival To Chivay And We Will Settle In Your Hotel. |
| 01:00 P.M. | Lunch In Chivay (Not Included). |
| 03:30 P.M. | Visit To Hot Sprint La Calera. |
| 06:30 P.M. | Diner In The Local Restaurant In The Village. |
DAY 2: At 06:00 a.m. after breakfast, our local guide picks you up from the lodge to go to the Natural Viewpoint: Cruz del Condor, on the way we will see beautiful landscapes such as the Colca River, agricultural terraces more than a thousand years old among and others. The guide will explain about the different indigenous groups that inhabited and still inhabit the Colca Valley.
We will arrive at the Mirador de la Cruz del Condor to admire the natural beauty that the canyon offers and also to observe the majestic flight of the Condors and to make small walks in the surroundings. Then we will return to Chivay, making stops in some typical villages such as: Pinchollo, Maca and Yanque that houses beautiful colonial churches. In Chivay we will make a last stop for the buffet lunch and finally we will return to the city of Arequipa, arriving at 5pm. approximately.
| TIMETABLE | ACTIVITIES OF DAY 2 |
| --- | --- |
| 06:00 A.M. | Breakfast in the Hotel in Chivay |
| 06:30 A.M. | Bus depart to the "Cruz del Condor" viewport |
| 08:30 A.M. | Arrival and visit to the "Cruz del Condor" to see the amazing and beautiful flight of the condors. |
| 10:00 A.M. | Back To Chivay Along The Way Visit To The Small Town( Pincholo, Maca Y Yanque). |
| 12:00 P.M. | Lunch In Locals Restaurant In Chivay. |
| 02:30 P.M. | Return To Head To The City Of Arequipa. |
| 05:00 P.M. | Arrival And Transfer To Your Hotel Of The City Of Arequipa. |
It is advisable to bring :
Camera, Toilet paper and extra batteries.
A bottle of water (a liter).
Glasses, hat and sunscreen.
Lightweight and warm clothing.
WHICH IS INCLUDED IN THIS TOUR?:
Advice one day before the tour.
FOOD: 2nd day 1 Breakfast and Buffet Lunch in Chivay.
Official guide Spanish / English.
Pick up from the downtown hotels of the city.
Tourist transport Arequipa - Chivay - Colca canyon - Arequipa.
Tourist transport Chivay - Hot springs.
Guided visit: "National reserve of Salinas an Aguada Blanca" and Colca Canyon.
WHICH IS NOT INCLUDED IN THIS TOUR?:
Others not mentioned in the program.
Buffet Lunch in Chivay (30.00 PEN)
BTC (Colca Ticket Tourist).
Entrances fee to hot springs in Chivay (S/. 15.00 Nuevo Soles).
Lodging
BTC (Colca tourist ticket,
permite ingresar al cañón del colca) :
NATIONAL: S/. 20.00 PEN
FOREIGN: S/. 70.00 PEN
PRICES TABLE
Prices in ($ USD) DOLLARS
amount of people
$ 47.00 USD
per 1 person
BENEFITS WITH INCA'S PARADISE - COMFORT
Alive culture and nature
Unique experiences
Qualified staff
Responsible tourism
Your satisfaction is our happiness
Excursion in private:
Price: consult based on number of people.
write us: reservas@titicacatravel-ip.com
Do you need more details with our help?
INCA'S PARADISE | TRIP | ADVISOR