NEXT
TREKKING IN THE COLCA CANYON - AREQUIPA 3D / 2N
TREKKING IN THE COLCA CANYON - AREQUIPA 3D / 2N
SERVICE :
Compartido
DEPARTURE TIME :
3:00 am.
ARRIVE TIME :
4:00 pm.
CATEGORY :
AREQUIPA
RATING :

1000

reviews)
(
Update page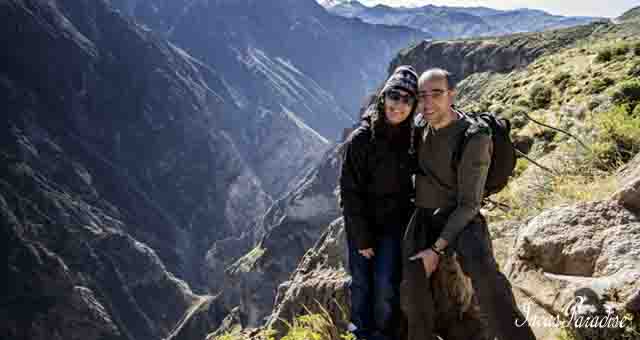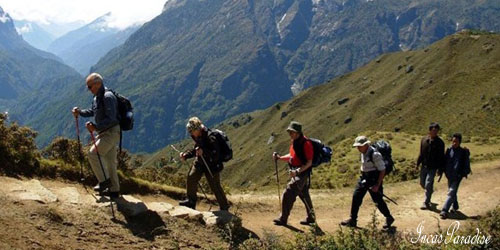 NEXT
OVERVIEW
The Colca Canyon, with more than 1 kilometer of depth to the river for what is considered the deepest canyon in Peru, has picturesque pre-Inca terraces, impressive landscapes and friendly indigenous villages (Chivay) with traditionally dressed peasants. If you are lucky, you will be able to see the famous Peruvian Condor just a couple of meters from where you are. Unforgettable and impressive.
TREKKING IN THE COLCA CANYON - AREQUIPA 3D / 2N
DAY 1: AREQUIPA – CHIVAY – CRUZ DEL CONDOR – SAN JUAN DE CHUCCHO. 
At 3:00 a.m. We pick up our passengers from their hotels in Arequipa and depart for Chivay, arriving breakfast and head for the Cruz del Cóndor, continuing our journey we will arrive at the village of Cabanaconde where we will have lunch and after a short rest we will go to Mirador de Pampa San Miguel where we will begin the Trekking, we will go downhill going through the Colca River until arriving at the town of San Juan de Chuccho where we will spend the night in the lodging houses offered by families in the area.
DAY 2: SAN JUAN DE CHUCCHO – VALLE DE SANGALLE – OASIS. 
We will have breakfast at 7:00 a.m. And then take our walk through the villages of Cosñirhua and Malata where we will visit the local museum and see the honey bee production, continuing with our trip we will go to Sangalle Valley, a charming place, has a tropical climate and if you want You can enjoy a refreshing swim in the heated pool, have lunch and then you have the afternoon free to rest or stroll along the banks of the Colca River, at night over night in adobe bungalows.
DAY 3: VALLE DE SANGALLE - CABANACONDE – CHIVAY – AREQUIPA.
At 5:00 am. we will ascend to Cabanaconde village where we will have breakfast and board the bus to return to Chivay, on the way we will make tourist stops in: Maca, Achoma, Yanque and the natural viewpoints. When you arrive to Chivay you will have time to visit the thermal baths of the Calera and if you want to eat the buffet lunch (not included), then we will return to the city of Arequipa making tourist stops in: Balcony of Volcanoes and the National Reserveof Salinas and Aguada Blanca, approximately 4:00 p.m. we will arrive in Arequipa and transfer you to your hotel.
It is advisable to bring :
Camera, Toilet paper and extra batteries.
A bottle of water (a liter).
Glasses, hat and sunscreen.
Lightweight and warm clothing.
WHICH IS INCLUDED IN TREKKING COLCA ?:
Advice one day before the tour.
First aid kit.
Night in family's house - Cosñirhua or San Juan and Sangalle.
Adventure Professional tour guide Spanish / English.
Temperate pool in the Colca Valley.
Pick up from the downtown hotels of the city.
Tourist transport Arequipa - Chivay - Colca canyon - Arequipa.
Guided visit to the attractions to visit.
WHICH IS NOT INCLUDED IN TREKKING COLCA ?:
Others not mentioned in the program.
Buffet Lunch in Chivay (30.00 PEN)
BTC (Colca Ticket Tourist).
Entrances fee to hot springs in Chivay (S/. 15.00 Nuevo Soles).
PRICES TABLE
Prices in ($ USD) DOLLARS
amount of people
$ 79.00 USD
per 1 person
BTC (Colca tourist ticket,
permite ingresar al cañón del colca) :
NATIONAL: S/. 20.00 PEN
FOREIGN: S/. 70.00 PEN
BENEFITS WITH INCA'S PARADISE - COMFORT
Alive culture and nature
Unique experiences
Qualified staff
Responsible tourism
Your satisfaction is our happiness
Excursion in private:
Price: consult based on number of people.
write us: reservas@titicacatravel-ip.com
Do you need more details with our help?
INCA'S PARADISE | TRIP | ADVISOR