RETURN
ATV QUAD BIKE MARAS MORAY HALF DAY.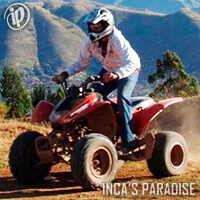 ATV QUAD BIKE MARAS MORAY HALF DAY.
SERVICE :
Compartido
DEPARTURE TIME :
7:30 a.m.
ARRIVE TIME :
1:00 p.m.
CATEGORY :
CUSCO
RATING :

1000

reviews)
(
Update page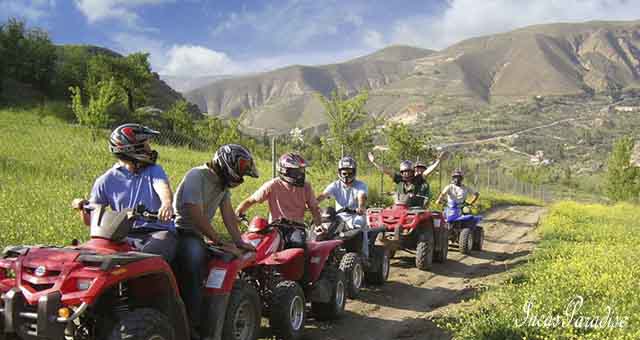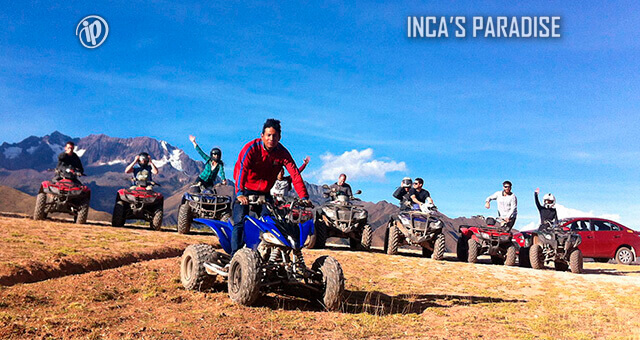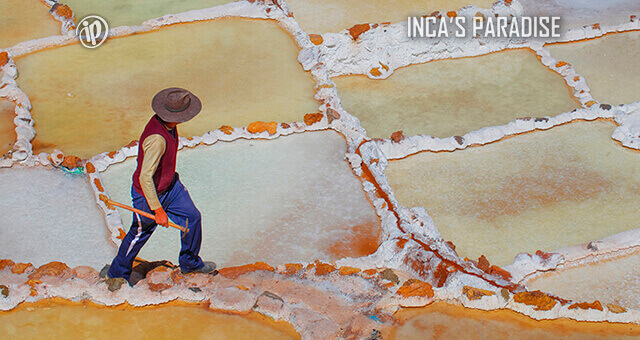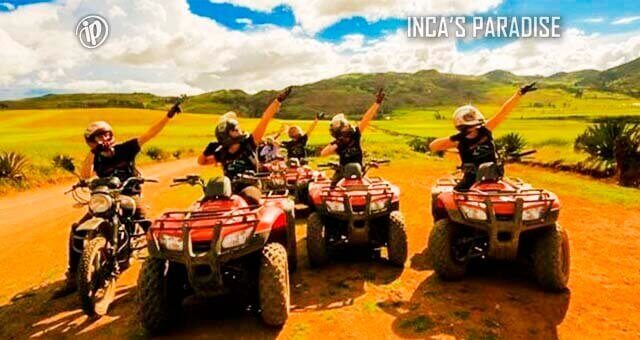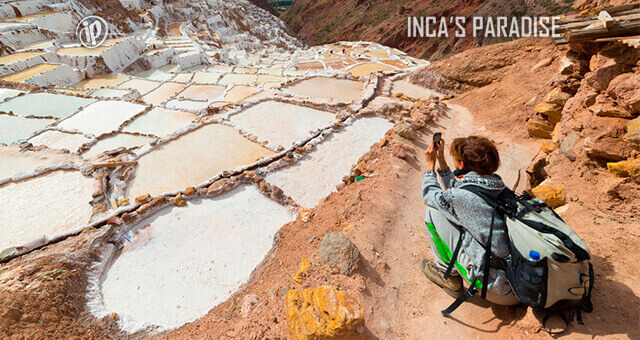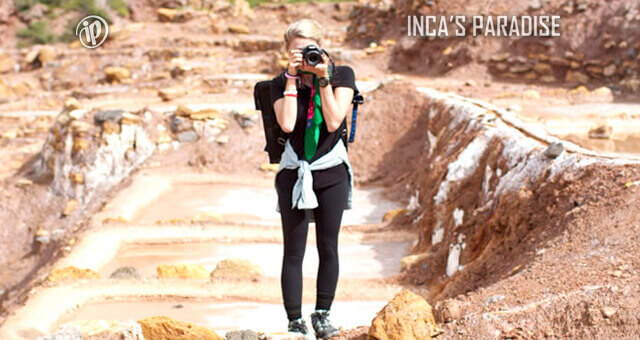 OVERVIEW
Inca's Paradise Comfort offers the fantastic and unique ATV quad bike Tour, visiting the tourist destinations of Maras, Moray, Tiobamba, Salt mines; in addition, this tour that allows them to appreciate and be in contact with nature, local people, agricultural lands, high mountains, snowy peaks and unforgettable views.
ATV QUAD BIKE MARAS MORAY HALF DAY.
On this tour of Cuatrimotos half day, our local guide about 7:30a.m. pick passenger up from their hotels (Cusco's downtown) to leave for Cruz Pata. Upon arrival here, the guide will give you the necessary knowledge and correct use of the machines (ATVS.) some indications on the proper use of the ATV quad bike and the route.
Our first stop will be Moray, an Archaeological Center from the Inca period that served as an agricultural laboratory; we will continue the route to towards Maras, where we will visit Tiobamba church and the Salt Mines, we will return to the base in Maras and here we will wait for the transport that will take us back to Cusco city.
| TIMETABLE | ACTIVITIES |
| --- | --- |
| 07:30 A.M. | Pick Up From Hotels Of Cusco – Head To The Base De Cruz Pata. |
| 09:15 A.M. | Begin Our ATV Adventure. |
| 10:00 A.M. | Visit The Archeological Site Of Moray. |
| 11:00 A.M. | Zip Line "The Flight Of The Condor". |
| 12:30 P.M. | Visit The Church Of Tiobamba And The Salt Mines Of Maras. |
| 02:00 P.M. | We Return To Our Base In Cruzpata And Return To Cusco. |
| 03:30 P.M. | Arrival To Cusco City. |
It is advisable to bring :
Camera, Toilet paper and extra batteries.
A bottle of water (a liter).
Snacks, chocolate or energy candies.
Lightweight and warm clothing.
Sunscreen, lip balm, sunglasses, sun hat.
WHICH IS INCLUDED IN THIS TOUR?:
Advice one day before the tour.
Practical knowledge and necessar explanation by profesional guide.
Complete equipment for ATVs (helmet and gloves).
Adventure Professional tour guide Spanish / English.
Transport - Hotel Cusco - Base Cruz Pata - Cusco.
WHICH IS NOT INCLUDED IN THIS TOUR?:
Others not mentioned in the program.
Lunch (Optional, adicional cost (S/40 PEN).
Personal Accident Insurance and material tips.
Bilhete de entrada (ingresso Tourist partir S / 70 Soles) Moray.
PRICES TABLE
Prices in ($ USD) DOLLARS
amount of people
$ 39.00 USD
per 1 person
BENEFITS WITH INCA'S PARADISE - COMFORT
Alive culture and nature
Unique experiences
Qualified staff
Responsible tourism
Your satisfaction is our happiness
Excursion in private:
Price: consult based on number of people.
write us: reservas@titicacatravel-ip.com
Do you need more details with our help?
INCA'S PARADISE | TRIP | ADVISOR