RETURN
TOUR INCA JUNGLE TRAIL TO MACHUPICCHU 4D/3N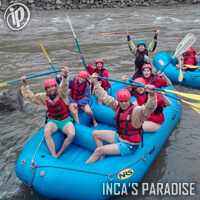 TOUR INCA JUNGLE TRAIL TO MACHUPICCHU 4D/3N
SERVICE :
Compartido
DEPARTURE TIME :
5:30 a.m.
ARRIVE TIME :
CATEGORY :
CUSCO
RATING :

1000

reviews)
(
Update page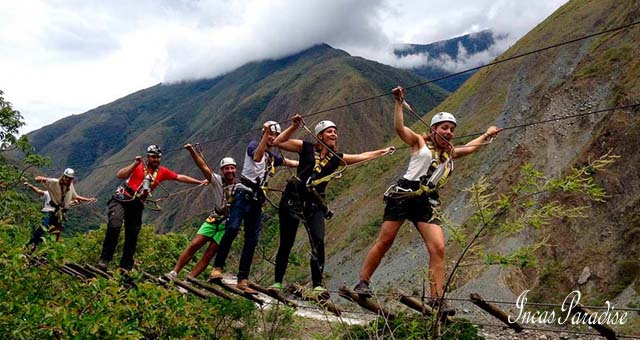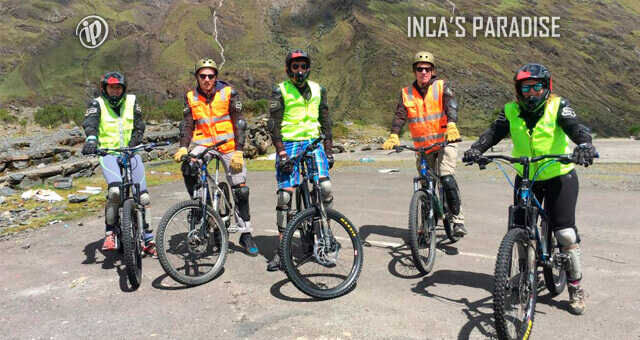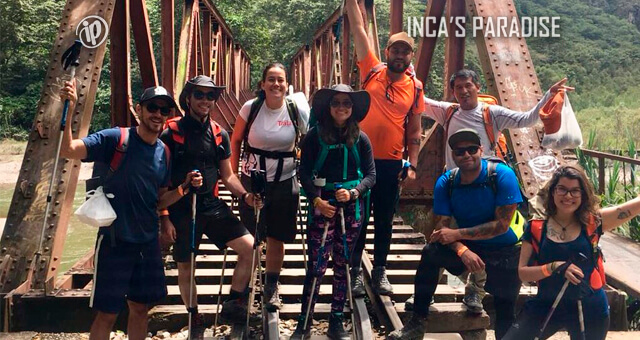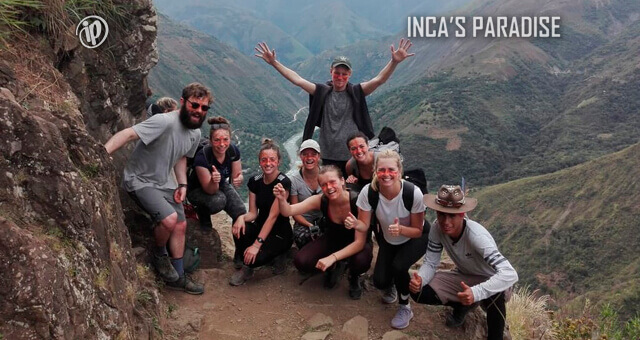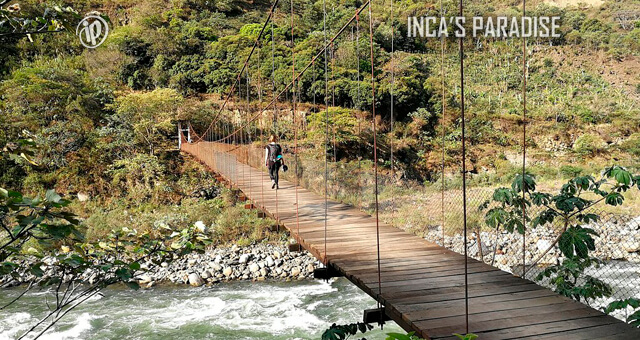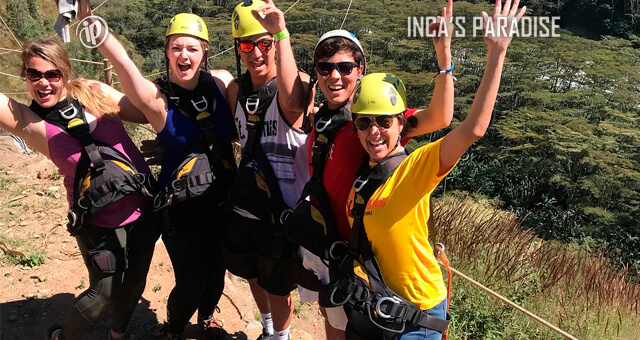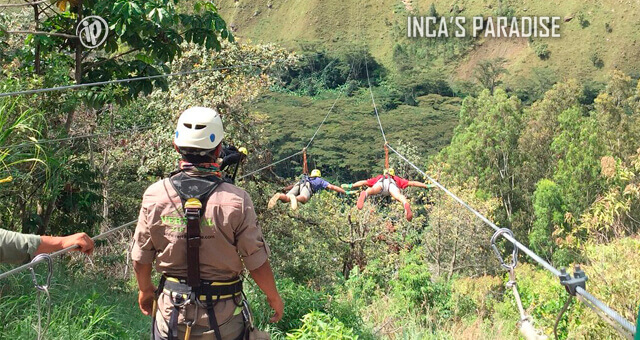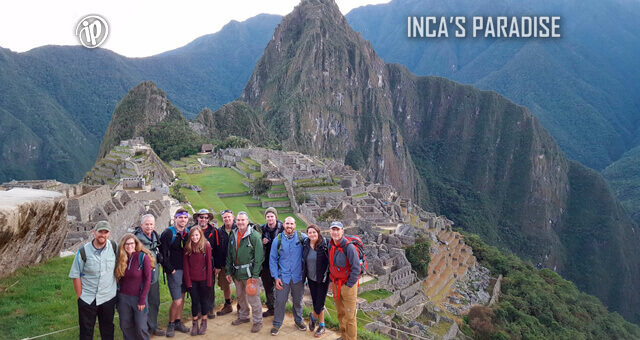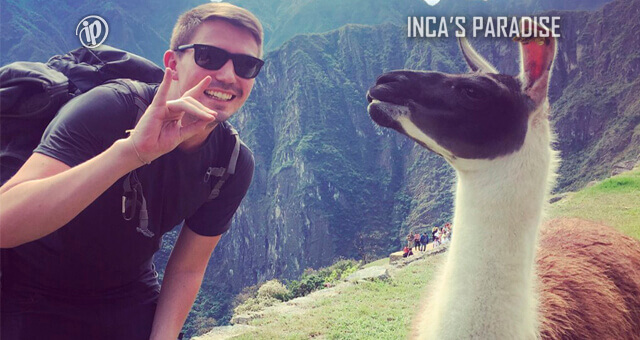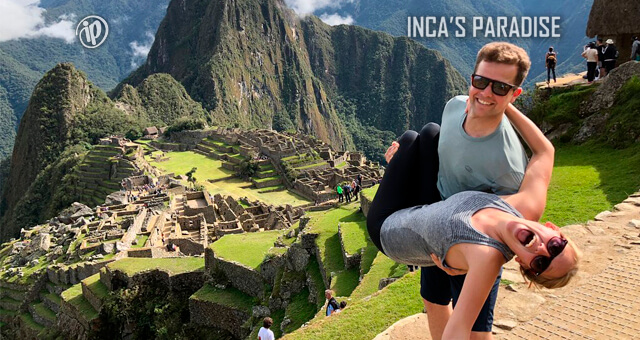 OVERVIEW
Inca's Paradise – Comfort offers you a wonderful experience full of adventure and adrenaline rush that you'll never forget. Inca Jungle trail, combines different adventure sports such as biking, rafting, zip line and trekking to reach Machu Picchu, will be 4 days and 3 nights of countless stories, breathtaking landscapes and unmissable extreme sports. Machu Picchu waits for you, don't miss the chance to discover one of the new 7 wonder of the world with the best team.
TOUR INCA JUNGLE TRAIL TO MACHUPICCHU 4D/3N
DAY 1: CUSCO TO SANTA MARIA: BIKING AND RAFTING
Around 5:30 am we start with pick up from your hotel in Cusco to go to the Sacred Valley of the Incas, here we'll have our first buffet breakfast. Then, we'll continue by bus for 2 hours until we reach the highest point of the route: the Malaga pass (4 350 masl), the starting point of our biking tour. Here our guide will give us an informative talk and prior preparation of the complete equipment, we'll start with our adventure descending by bicycle for three hours (55 km) until we reach the town of Huamanmarca. During the tour we'll enjoy the beauty of the snow-capped peaks and tropical forests typical of the Peruvian Amazon; Crossing picturesque streams and changing from cold to tropical weather. During the journey we'll make several stops to admire the impressive landscape and to check our bicycles and equipment.
Then, we'll continue with our adventure towards the town of Santa María (1 200 masl) to have lunch. In the afternoon we'll have free time to rest and for those who booked rafting, it will be the beginning of a new epic adventure and at night we'll spend the night in accommodations surrounded by natural beauty.
Optional: Rafting on the Vilcanota River (US$ 29 per person). Available between the months of April to December. Requirement: to know how to swim.
DAY 2: SANTA MARIA TO SANTA TERESA: TREKKING
After breakfast, we start with the trekking to Santa Teresa. On the way we'll have several stops to learn a bit more about the richness in exotic flora and fauna of the area; We'll also stop at home of a local family, where we'll learn a little more about their customs and traditions. We'll cross a section of the original Inca Trail that formerly connected the Sacred City of the Incas Machu Picchu with the last Inca refuge, here our guide will explain us about the history of the Incas and the communication system through the Inca roads. At this point, we'll have some of the most impressive views of the Huancarccasa canyon: the majestic Salkantay.We'll descend to the town of Quellomayo, arriving at the border at midday to enjoy a delicious lunch and a restful rest in the hammocks of our restaurant; then we'll continue with the last two hours of trekking to the hot springs of Cocalmayo, where you can feel freezing water and very hot water; We'll enjoy a good time there, and then be transported to our lodging in the town of Santa Teresa, where we'll spend the second night.
DAY 3: SANTA TERESA TO AGUAS CALIENTES: TREKKING AND ZIP LINE
It will be a day full of history, because we'll cross routes of many expeditionary that discovered Machu Picchu and other important archaeological remains. For those who booked zip line adventure, we'll start with one of the highly trusted operators in this activity for approximately 2 hours.
After breakfast, we'll have a transport to the hydroelectric plant, where the government control is located, to enter the Machu Picchu National Park (Machu Picchu Historical Sanctuary). At this point we'll start our trekking towards the town of Aguas Calientes, passing through the area called Inti Watana (Solar Clock), which is a small archaeological site. Then we'll continue to Inka Rakay, where we'll enjoy our lunch. In all route we'll have the opportunity to contemplate probably the best views of landscapes and mountains, concluding the trek in the town of Aguas Calientes, where we'll spend the third night.
Optional: ZIP LINE (US $ 29 per person)
DAY 4: AGUAS CALIENTES - MACHU PICCHU AND CUSCO
And the most important day of the tour arrived to get to know one of the New Seven Wonders of the World: Machu Picchu. The tour will start very early, around 4:00 am with the option of hiking to appreciate the beautiful sunrise over the incredible Inca citadel (or you can take a bus, it has an extra cost). Then our local guide takes you for two hours guided tour inside the Inca city of Machu Picchu and we'll know about its most important temples; like the Temple of the Sun, the temple of the three windows, etc.
After you'll have free time to explore Machu Picchu on your own, you can take advantage of this majestic place to relax, meditate and rest, absorbing the magical and spiritual energies of this great wonder, or better yet you can climb one of the two mountains: either Huaynapicchu (Inca keep) or for Old Mountain (panoramic view), you can access to the top of the trip from where you can enjoy a spectacular landscape of the archaeological complex of Machu Picchu. This tour could take an hour and a half approximately, but it is worth the effort since the landscape is indescribable. (Entrance tickets for the mountains must be reserved in advance). Later we'll return to Aguas Calientes to take the return train to Ollantaytambo and then by bus to Cusco. 
Additional Information:
- Bus to Machu Picchu Optional: One Way = US$ 12 | Round Trip: US$ 24
- Lunch in Machu Picchu from US$ 7
 - Entrance fee to the Huayna Picchu or Machu Picchu Mountains optional: US$ 20 (Reserve 3 months before).
It is advisable to bring :
Camera, Toilet paper and extra batteries.
WHICH IS INCLUDED IN THIS TOUR?:
Advice one day before the tour.
First aid kit, including oxygen.
Bicycle equipment (helmet, gloves, rain jacket, pants rain).
Tourist transportation Cusco - Málaga Pass.
3 nights in double or triple accommodation (Santa María, Santa Teresa, Aguas Calientes).
Specified meals (3 breakfast, 3 lunch and 3 dinner - Vegetarian food on request). 
Entrance ticket to Machu Picchu.
Professional Bicycles: (disc hydraulic brake and SHIMANO accessories).
Train aguas calientes - hidroeléctrica
Bus return to Cusco.
WHICH IS NOT INCLUDED IN THIS TOUR?:
Others not mentioned in the program.
Extra drinks.
Refreshments and tips.
Feeding not mentioned
Personal travel insurance.
Unforeseen expenses.
Bus in Machu Picchu: Optional transportation for those who  don´t wish to hike up ($ 12 USD one way, $ 24 round trip).
Entrance fees to Huyna Picchu or Mountain Machu Picchu.
Rafting or Zip line.
PRICES TABLE
Prices in ($ USD) DOLLARS
amount of people
$ 285.00 USD
per 1 person
BENEFITS WITH INCA'S PARADISE - COMFORT
Alive culture and nature
Unique experiences
Qualified staff
Responsible tourism
Your satisfaction is our happiness
Excursion in private:
Price: consult based on number of people.
write us: reservas@titicacatravel-ip.com
Do you need more details with our help?
INCA'S PARADISE | TRIP | ADVISOR