RETURN
SALKANTAY TREK TO MACHU PICCHU CUSCO 5D/4N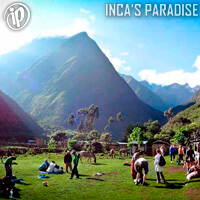 SALKANTAY TREK TO MACHU PICCHU CUSCO 5D/4N
SERVICE :
Compartido
DEPARTURE TIME :
5:00 a.m.
ARRIVE TIME :
8:00 p.m.
CATEGORY :
CUSCO
RATING :

1000

reviews)
(
Update page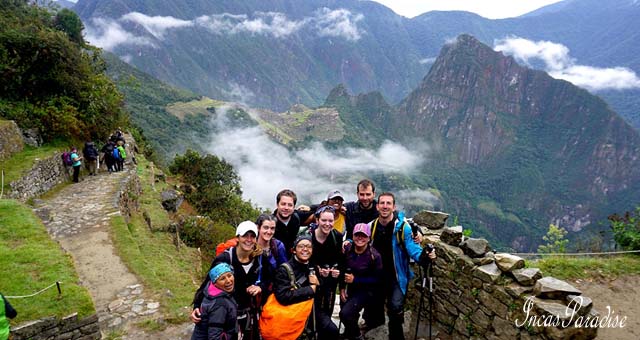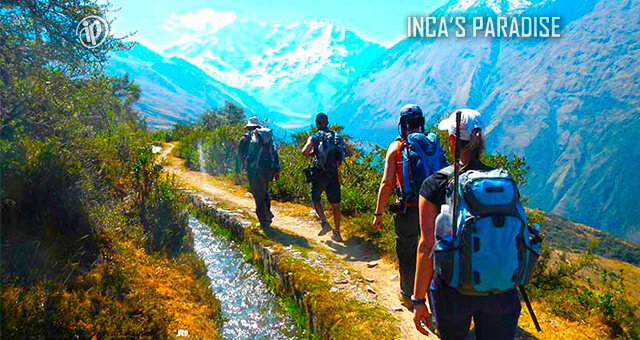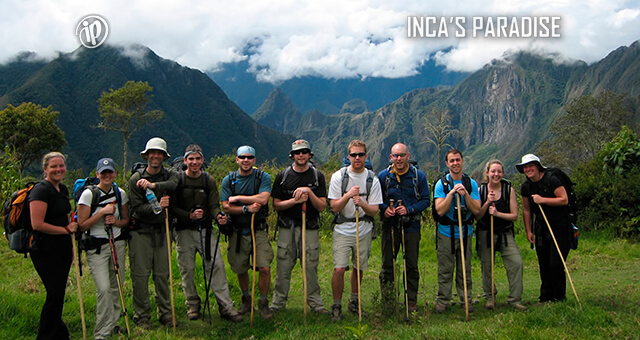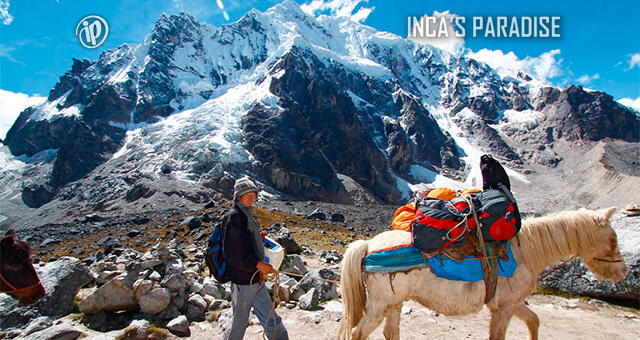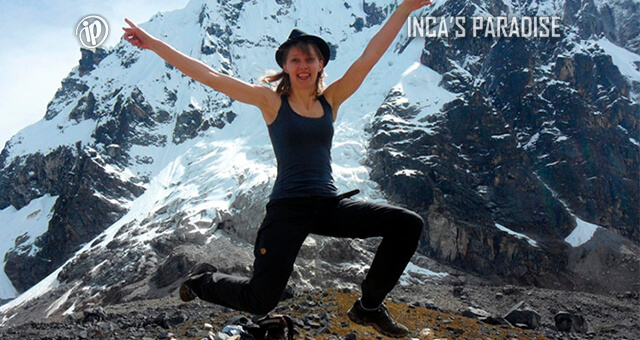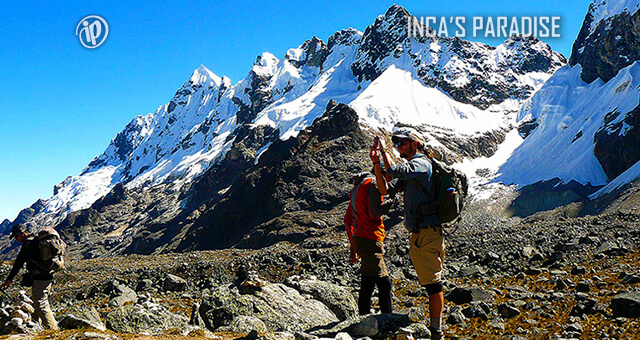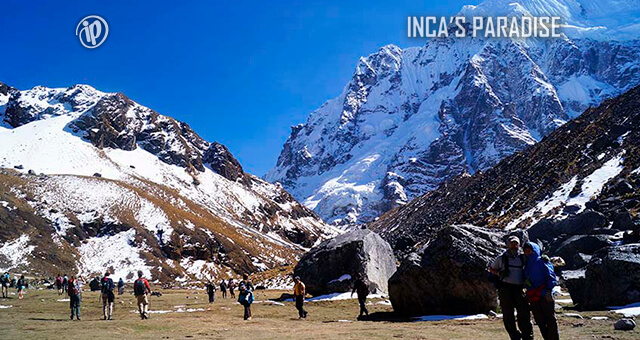 OVERVIEW
INCA'S PARADISE COMFORT offers you, The classic Salkantay trek 5d4n is an alternative to the traditional Inca Trail to Machupicchu. The Sacred Road is a cutting-edge adventure experience for travelers looking for a bit more privacy and authenticity. With more spectacular views than the trek to Machupicchu, it offers tranquility and contemplation of the rich nature of the Archaeological Park of Machupicchu.
SALKANTAY TREK TO MACHU PICCHU CUSCO 5D/4N
DAY 1: CUSCO – SORAYPAMPA
Pickup will be between 04:30 am to 05:00 am of your respective lodging. Departure 05:00 am. in a tourist bus heading towards Mollepata, a small village located at a height of 2,850 meters above sea level with warm climate and a lot of vegetation, Then, at approximately 07:00 am, we arrive at Mollepata where we will enjoy this beautiful landscape that is part of Nevado Salkantay (6,200 masl), where we will have our breakfast (optional). We will start with our trek which will last approximately 7 to 8 hours in total; Likewise, we will be accompanied by the jungle vegetation. On the way we will have lunch, and after this we will continue until arriving at Soraypampa, place of our first camp.
DAY 2: SORAYPAMPA – CHAULLAY
The second day will be the longest trek. After breakfast, we start to walk uphill for two hours to the "Salkantay Pass" (4,600 m. / 9800ft). From this point, we can enjoy a spectacular view of the second highest peak in Cusco.
In the pass you can leave a very small piece of rock that you can carry in your pocket from Soraypampa as a gift for the spirit of the mountain. After leaving a small gift and take group photos in front of the snowy Salkantay. We will begin to descend for two hours and a half to the lunch place in Huayracmachay. After a quick break, we will continue our hike downhill to the jungle eyebrow. After about two hours, we will arrive until Chaullay where we will spend the night.
DAY 3: CHAULLAY - SAHUAYACO BEACH - SANTA TERESA.
After breakfast at 6:30 a.m. we will start walking through the forest, crossing the river Lluskamayo and a variety of small streams. We will pass through magnificent valleys that have wonderful waterfalls, tropical fruits and plants, and we will have the possibility of appreciating a variety of coca leaves, considered the sacred leaf of our ancestors. In this section we will descent to Playa Sahuayaco and from there, head to Santa Teresa where we will spend the night.
DAY 4: SANTA TERESA - AGUAS CALIENTE
The sunrise will be inside a tropical area, which is full of history. Then, we will continue our trip towards Aguas Calientes (MachuPicchu Pueblo). To reach this town we will take an approximate time of 7 hours, passing by the famous leisure center Hydropower (Service Hydroelectric station - Aguas Calientes: Optional), making stops at different places to simply appreciate the scenery and full environment Waterfalls with impressive waterfalls, which come from the glaciers.
We will arrive in the afternoon to Aguas Calientes, there we will spend the night in a hostel at the foot of the Inca citadel of MachuPicchu.
DAY 5: MACHUPICCHU – CUSCO.
In the early morning around 04:30 am, we will ascend to the majestic Inca City of MachuPicchu, where we will visit it accompanied by our guide for approximately 2 hours, and the rest of the day we will have free time to visit HuaynaPicchu (Optional) Inti Punku (optional fee), temple of the moon or simply visit once again and at its entire time the citadel.
In the afternoon, we return to Aguas Calientes (MachuPicchu Pueblo) and depending on the schedule of our train (Aguas Calientes - Ollantaytambo), we will transfer from Ollantaytambo to the imperial city of Cusco; Leaving you at your hotel
-Optional Include the visit to Huayna Picchu (USD 25.00) -
If you are interested in including the ascent of Huayna Picchu during your visit to MachuPicchu, please note that there are new regulations and entrances tickets have to be purchased in advance. The cost of having a HuaynaPicchu ticket is USD 25.00 extra.
It is advisable to bring :
Camera, Toilet paper and extra batteries.
Snacks, chocolate or energy candies.
Glasses, hat and sunscreen.
Walking sticks or trekking poles.
Thermal clothing, especially for sleeping is also recommended.
Flashlights
Your own medical kit with any special medications you may need as directed by your doctor.
Trekking shoes and extra stockings.
Insect repellant.
WHICH IS INCLUDED IN THIS TOUR?:
Advice one day before the tour.
Thermal clothing, especially for sleeping is also recommended.
Lunch (vegetarian meal if the client wishes).
First aid kit.
Box lunch.
Emergency horse with an muleteer (in case you can not continue the trek or feel bad).
Camp for Breakfast and Lunch with tables and chairs.
Entrance tickets to Machupicchu.
Official guide Spanish / English.
Basic Hotel (1 night in Aguas Calientes).
Train Tickets: Ollantaytambo - Aguas Calientes - Ollantaytambo.
Bus ticket up and down Aguas Calientes - Machu Picchu - Aguas Calientes.
WHICH IS NOT INCLUDED IN THIS TOUR?:
Others not mentioned in the program.
Walking sticks or trekking poles.
sleeping bag.
Refreshments and tips.
PRICES TABLE
Prices in ($ USD) DOLLARS
amount of people
$ 265.00 USD
per 1 person
BENEFITS WITH INCA'S PARADISE - COMFORT
Alive culture and nature
Unique experiences
Qualified staff
Responsible tourism
Your satisfaction is our happiness
Excursion in private:
Price: consult based on number of people.
write us: reservas@titicacatravel-ip.com
Do you need more details with our help?
INCA'S PARADISE | TRIP | ADVISOR