RETURN
KAYAK ON THE NATIONAL RESERVE OF THE LAKE TITICACA 4 HOURS.
KAYAK ON THE NATIONAL RESERVE OF THE LAKE TITICACA 4 HOURS.
SERVICE :
Compartido
DEPARTURE TIME :
8:00 am.
ARRIVE TIME :
12:00 pm.
CATEGORY :
LAKE-TITICACA
RATING :

1000

reviews)
(
Update page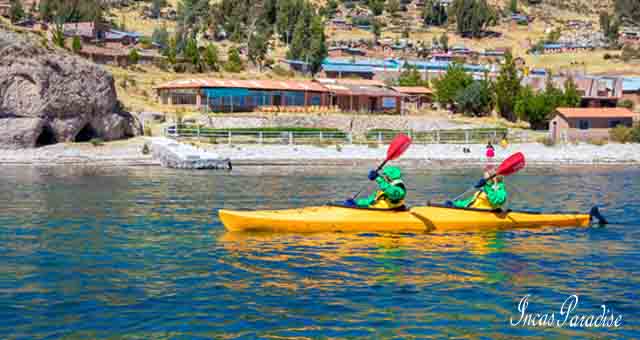 OVERVIEW
The Titicaca National Reserve is an area dedicated to the conservation of biological diversity and the sustainable use of flora, fauna, aquatic and terrestrial resources. It allows the commercial exploitation of natural resources under management plans, approved, supervised and controlled by the competent national authority. It has a biodiversity of flora, being the totora the most famous plant, as well as fauna (amphibians, reptiles, mammals and birds).
KAYAK ON THE NATIONAL RESERVE OF THE LAKE TITICACA 4 HOURS.
This tour begins with pick you up from the hotel and take you to the Coya port at 8:00 a.m. where our professional guide will give you all the professional equipment/gear needed to kayaking, we will paddle about 4 hours, with stop on the way or visiting to the following places: Island Foroba, where we will visit the rocky formations on the lake, the shores of the Puno and the National Reserve of Titicaca (labyrinth of totora and wilderness of the reserve for the sighting of birds).
We recommend doing this activity because Sacred Lake is a unique energy source in the world, our guide knows the most powerful places of this place so that the lake gives us the balance and activate our body centers filling them of energy getting to relax deeply.
It is advisable to bring :
Camera, Toilet paper and extra batteries.
A bottle of water (a liter).
Glasses, hat and sunscreen.
Lightweight and warm clothing.
WHICH IS INCLUDED IN THIS TOUR?:
Advice one day before the tour.
Photographs and information of the birds of the National Reserve.
Professional kayak training.
Official guide Spanish / English.
All the professional equipment (kayak, paddle, etc.).
Transfer hotel - Coya´s port - hotel.
Guided visit to the attractions to visit.
WHICH IS NOT INCLUDED IN THIS TOUR?:
Others not mentioned in the program.
PRICES TABLE
Prices in ($ USD) DOLLARS
amount of people
$ 53.00 USD
per 1 person
BENEFITS WITH INCA'S PARADISE - COMFORT
Alive culture and nature
Unique experiences
Qualified staff
Responsible tourism
Your satisfaction is our happiness
Excursion in private:
Price: consult based on number of people.
write us: reservas@titicacatravel-ip.com
Do you need more details with our help?
INCA'S PARADISE | TRIP | ADVISOR
"Good service"
Se escribió en Octubre del 2016
We requested two tours for Colca canyon and Uros Floating Islands in Titicaca Lake. Because it was our first time dealing with high altitudes, we were feeling pretty sick and Inca's Paradise without any extra fee agreed to postpone our second tour until we got better. We really appreciated what they have done for us! Even more, Gumercinda helped us to find some hotels around the area. We had a lovely and safe trip :) Leer Más...
rainf2911
"Great experience all around"
Se escribió en Septiembre del 2016
We used Incas Paradise to arrange transfer from Arequipa to Puno and for a trip to floating islands and Taquile Island. Everything was arranged perfectly and our stay in Puno and trips were just great! Gumercinda took care of everything. Highly recommend this company. Thank you for wonderful time! Leer Más...
Dariusz C