RETURN
ISLAND UROS AND TAQUILE TOUR IN 1 DAY
ISLAND UROS AND TAQUILE TOUR IN 1 DAY
SERVICE :
Compartido
DEPARTURE TIME :
7:00 am.
ARRIVE TIME :
3:30 pm.
CATEGORY :
LAKE-TITICACA
RATING :

1000

reviews)
(
Update page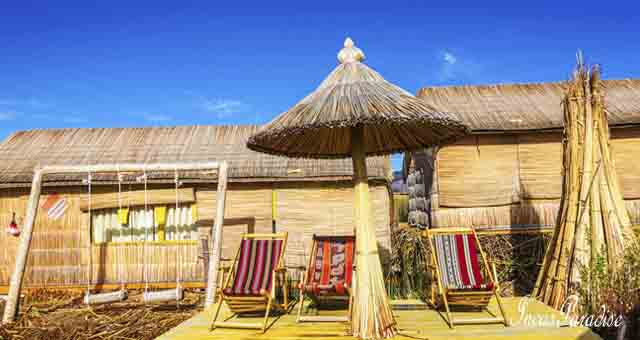 OVERVIEW
In this tour, you'll visit both Uros and Taquile Islands around places where no other agency go through. With walks for very peaceful places at the middle of the lake Titicaca. Taquile is located 4.5 kilometers from Puno city and its population is about 2,200 inhabitants who wears colorful typical dresses. Currently, Taquile is considered as "The fourth most beautiful islands which are in lakes". Its beautiful background and culture become Taquile into a destination that every tourist needs to visit at least once in lifetime.
ISLAND UROS AND TAQUILE TOUR IN 1 DAY
At 6:45 a.m. our guide pick you up from your hotel to take you to the port of the lake Titicaca and board to our speed boat.
The departure to the Floating Islands of the Uros starts then, we will visit two of them. Our guide will give you the detailed explanation of the main activities, customs and about how the Islands were builded.
Keep on the trip to Taquile Island, (it'll last 1 hour and 15 minutes by fast boat), once in the port of the island we will make an uphill walk to see the beautiful landscape offered by the Sacred Lake, you can feel tranquility and explore the area, enjoy the breathtaking views of Lake Titicaca.
We will have a typical lunch of the area, after lunch, the local family will show their customs and traditions. Also, the families will show you its beautiful and clothes made by the island's inhabitants.
Then, we'll return to the port to board the boat that will take us back to the city of Puno, arriving approximately at 3:30 pm.
Advantages of traveling by speedboat: Reduced time on the trip, less fatigue and more time to enjoy the beauty of the landscapes.
| TIMETABLE | ACTIVITIES |
| --- | --- |
| 07:00 am. | Pick up from hotels in the center of Puno. |
| 07:30 am. | Departure of the fast boat to the Uros Floating islands.. |
| 07:45 am. | Visit to two floating islands of the Uros. |
| 09:15 am. | Departure of boat to Taquile Island. |
| 10:45 am. | Arrival at the port of Taquile walk (45 min. approx.) to the town and visit the craft market.de y visita al mercado artesanal. |
| 12:30 p.m. | Lunch in a typical restaurant of Taquile. Then walk down to the port of the island. |
| 02:00 p.m. | Return to the city of Puno. |
| 03:30 p.m. | Arrival to the port of Puno and transfer to their hotelsad. |
It is advisable to bring :
Camera, Toilet paper and extra batteries.
A bottle of water (a liter).
Glasses, hat and sunscreen.
Lightweight and warm clothing.
WHICH IS INCLUDED IN THIS TOUR?:
Lunch: Grilled trout (or Omelet) + Quinoa soup + coca or muña tea.
Entrance fees to floating islands and Taquile.
Official guide Spanish / English.
Guided visit to the Taquile island (fine tissues, customs and traditions of the island)
Advise one day before the tour.
Assistance during your tour
WHICH IS NOT INCLUDED IN THIS TOUR?:
Others not mentioned in the program.
Optional ride on a reed boat (It has an additional cost of 10 PEN).
Pick up from the outside hotels of Puno city.
PRICES TABLE
Prices in ($ USD) DOLLARS
amount of people
$ 29.00 USD
per 1 person
BENEFITS WITH INCA'S PARADISE - COMFORT
Alive culture and nature
Unique experiences
Qualified staff
Responsible tourism
Your satisfaction is our happiness
Excursion in private:
Price: consult based on number of people.
write us: reservas@titicacatravel-ip.com
Do you need more details with our help?
INCA'S PARADISE | TRIP | ADVISOR
"Great experience all around"
Se escribió en Septiembre del 2016
We used Incas Paradise to arrange transfer from Arequipa to Puno and for a trip to floating islands and Taquile Island. Everything was arranged perfectly and our stay in Puno and trips were just great! Gumercinda took care of everything. Highly recommend this company. Thank you for wonderful time! Leer Más...
Dariusz C
"Good service"
Se escribió en Octubre del 2016
We requested two tours for Colca canyon and Uros Floating Islands in Titicaca Lake. Because it was our first time dealing with high altitudes, we were feeling pretty sick and Inca's Paradise without any extra fee agreed to postpone our second tour until we got better. We really appreciated what they have done for us! Even more, Gumercinda helped us to find some hotels around the area. We had a lovely and safe trip :) Leer Más...
rainf2911